Dr. Phillips at the National Association of Nurse Massage Therapists Conference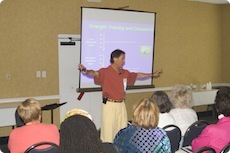 "Great benefit if medical practice would collaborate with someone like this speaker"
"Very informative. Useful information in improving fitness centers (in Retirement Communities) and ideas on how to gain interest from residents to get involved in strength training"
"Excellent!"
"Dynamic Humorous speaker"
"Great Speaker! Great Content! This was wonderful. Thank you!"
Error message
Deprecated function: Array and string offset access syntax with curly braces is deprecated in include_once() (line 20 of /home/proactiv/public_html/includes/file.phar.inc).
Listed by Hosting Organizations
ABRiO Health Services
Aging Services of Arizona
Area Agency on Aging
Arizona Association of Homes and Housing for the Aging
Arizona Geriatrics Society,
Arizona Governor's Conference on Aging.
Arizona Health Care Association.
Arizona Healthcare Human Resources Association
Arizona Parks and Recreation Department
Arizona School Retirees Association,
Arizona Senior Centers Association Annual
City of Scottsdale
Gentiva Health Services
International Council on Active Aging
National Association of Nurse Massage Therapists
Scottsdale Healthcare
South West Region, American College of Sports Medicine
South West Institute on Aging