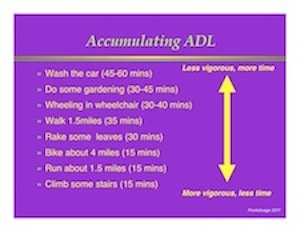 Just to follow up on my 'be a higher energy user' post today, I have included a graphical summary of information taken from the Surgeon General's Report (SGR) on Physical Activity and Health (and you just thought they talked about smoking!). The SGR was compiled by the brightest and best scientists in wellness, exercise and epidemiology. It was released in 1996 and was an enormous and exhaustive review of the scientific literature that examined the effect of physical activity on health. The "Physical Activity" in the title was defined as
"... any activity performed by skeletal muscles that results in energy expenditure".
Ok I know, I know, scientists tend to use lots of words, but really all they were saying here is any kind of bodily movement would count as physical activity. Their summary of all this research (the Report was almost an inch thick) was contained in a single sentence.
"Every American should accumulate 30 minutes or more of moderate intensity physical activity on most, preferably all days of the week"
"Moderate intensity" was any activity that felt as hard as a brisk walk. So what this means is that if you do something that feels about as hard as a brisk walk and do it in short bouts throughout the day that added up to around 30 minutes, you would get great health benefits - start feeling better, looking better, doing better. And the really cool thing is that the 'something' you do that feels as hard as a brisk walk, doesn't have to be the same 'something'! So 10 minutes of vacuuming (at a faster pace than usual) in the morning, 10 minutes of brisk walking before lunch and 10 minutes of raking leaves (at a faster pace than usual), would give you 30 minutes of moderate intensity physical activity. This almost sounds too good to be true. However more than 5 decades of peer-reviewed research supports this approach. Take my word for it!
So all those years ago - with technology and exercise physiology still in its infancy - Per-Olaf Astrand's recommendation to 'be a high energy user, not a low energy user', really nailed it! What a guy! The final thing is that these same SGR scientists also calculated that 30 minutes of 'moderate intensity physical activity' worked out to around 150 Calories, and that you could get to this number (and recieve the same health benefits) by doing some things for a shorter time at a higher intensity and some things for a longer time at a lower intensity. The graphic illustrates some options for burning 150 Calories by performing a range of what you might call 'Activities of Daily Living'. Some of these options may work for you and some not. However ...
as you think about this information and your lifestyle, in your own home and in your own environment .....
What's coming up for you?